:: History :: Custom Crafted :: Types of Windsocks ::
:: Sizes :: How do I order? ::
Look what's new!
NOW ACCEPTING CREDIT CARDS THROUGH



We have teamed up with River Bend Custom Embroidery, now available on Ringsiders & Bags.
Located in Beautiful Livingston Montana!
The Perfect Place for Windsocks!
Click here to read more!
New Contact Info!
406-223-5242
Windsocks@wispwest.net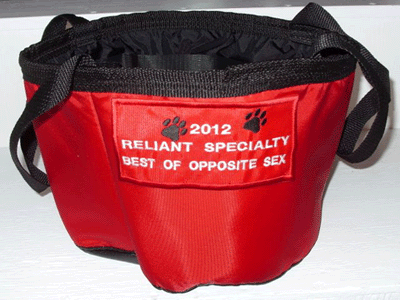 Windsocks by Connie was conceived in the spring of 1993, in a effort to condition my Shetland Sheepdog to the rigors of dog shows. So the dogs would not be bothered by the tenting at show, I began to hang the windsocks everywhere. IT WORKED! Then a friend asked if I could paint a Sheltie on a windsock- "well the rest is history"!
Each windsock is custom crafted.....
Every windsock is hand sewn and individually created. This allows me to combine some of my favorite things, art, sewing, and dogs. With the induction of subjects other than dogs (llamas, kennel, farm, mini socks, special occasions), my husband and son have the opportunity to input their ideas, along with my friends who have been supportive and helpful.
That is what makes your windsock a very special work of art!
The windsock is carefully cut to size from over 20 fabric color choices. We are very particular to choose a color to compliment your breed of dog, llama, alpaca, dog agility, dog obedience, herding, carting, field work, kennel, ranch, mini socks or special occasion. We then select coordinating color streamers to compliment your windsock.
We offer the following types of windsocks:
The Traditional Windsock (AKC Breeds, Obedience, Agility, Herding, Carting, Field, Llama, Alpaca, and Stars & Stripes) are 7 inches in diameter and 54 inches long.
The Ranch and Kennel Windsock is 9 inches in diameter and 54 inches long.
The Mini Sock is 4 inches in diameter and 16 inches long.
For your convenience, we maintain an inventory. Please email to inquire about the types of windsock we have for immediate delivery. All custom orders take approximately 4-6 weeks for delivery. We are happy to use your photo for color and marking only. All photos will be returned with your order.
Out of my love for dogs and artistry, this new medium of expression was born. This truly is "Artistry in the Wind".
We will re-ribbon all tradition, ranch and kennel size windsocks at a cost of $24.50 (includes shipping).
An easy to use Order Form is available to use while browsing the site. On the Order From page is the list of colors so you can select your top fabric color for your windsock.
---
How do I contact Windsocks by Connie?
Windsocks by Connie has moved!
Windsocks by Connie
217 S. B Street
Livingston, Montana 59047
406-223-5242
---
Windsocks by Connie. All Rights Reserverd.